ENERGY REDUCTION
MADE EASY
Sustainable future for train platforms
ProRail is responsible for 11,500 signage signs at stations in the Netherlands. Because ProRail's objective is to make it more sustainable, a development has been started to provide all lighting in the signage boards with LED lighting.
Scope Design has one for ProRail plug and play solution designed which makes it energy consumption of the signage signs with more than 1.6 million kWh reduced. In addition, extended lifespan, because LEDs with a long lifespan are used and the product is designed to easily separate the parts for optimal recycling: Design for Disassembly.
The current frame of the signage signs based on fluorescent lighting will be replaced reused, in which a smart modular system is designed to easily replace the fluorescent tube with LED. With just 2 extrusion profiles and 4 LED panels that vary in height, all 26 different signage boards at stations can be can be easily converted.
In addition to improved ease of installation and a more durable product, the new design also delivers a... smoother light image which has improved the visual quality.
ProRail asked Scope Design to design a retrofit kit with which existing signage boards can be fitted with LED. At the start of the project, all signage boards were equipped with fluorescent lighting. Not only do fluorescent lights use a lot of energy, but their lifespan is also limited, meaning they often need to be replaced. The quality of the design is determined by one thing smart mechanical solution which ensures that the fluorescent lighting can easily be replaced on location by LED and, on the other hand, a correct LED specification. The solution is one modular system that is suitable for all 10 width sizes and 4 height sizes.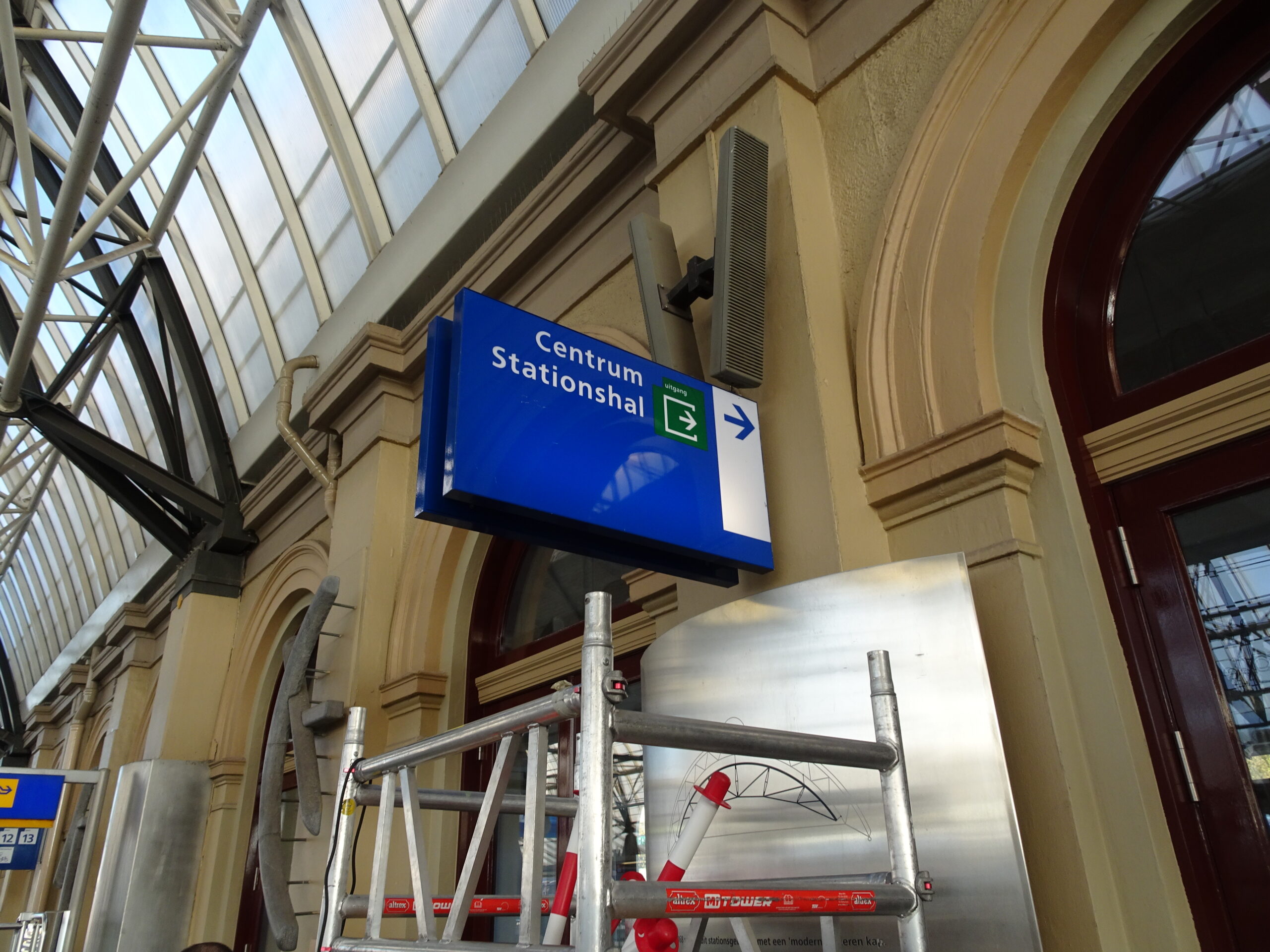 THE APPROACH OF THE PROJECT
Scope Design has carried out light measurements on the existing signs for reference and to ensure the same light intensity for the new solution. Being at an early stage test setups built to gain insight into which LED setup produces a good light image.
ProRail's ambition is for the product to be easy to install by maintenance engineers. Solutions for smart mounting principles with maintenance technicians tested by making use of prototypes to assess ergonomics. 
The expertise that Scope has in the field of extrusion parts made it possible to realize an easy-to-assemble, reliable, and production-efficient design.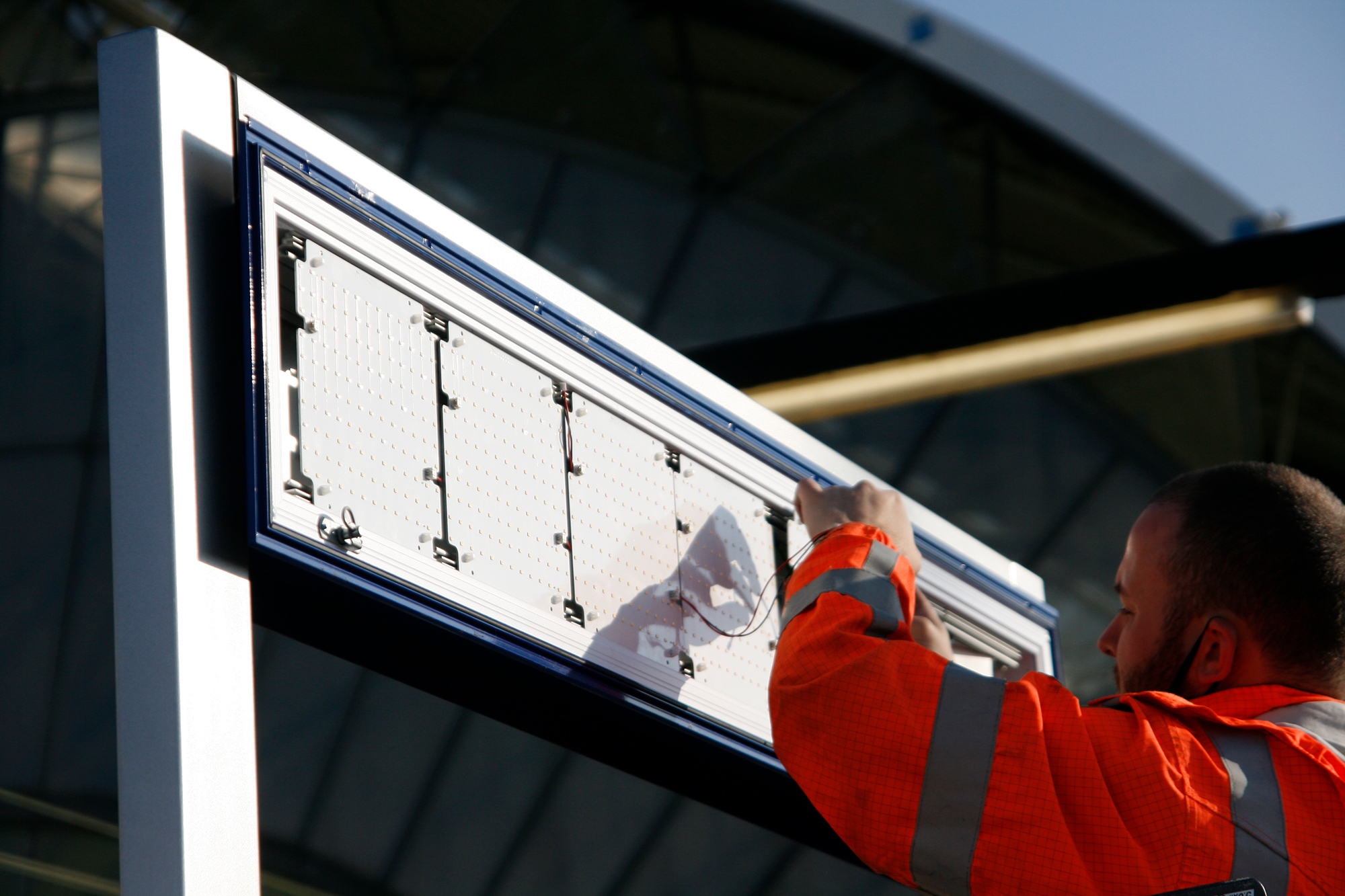 The retrofit kit can easily be clicked into the existing fixture by the technician. The extrusion parts provide a fast reliable installation without the use of screws.
This makes the lighting not only quick to install, but also easy to maintain. The LED panels have a lifespan of at least 15 years, but if necessary, 1 panel can easily be replaced earlier without dismantling the other parts.
With the new solution it becomes power consumption with at least 1.6 million kWh reduced. In addition, the lifespan of the light elements has been increased from 2 to at least 15 years. This not only reduces CO2 emissions because fewer parts are used, but also reduces the number of transport movements. Scope Design has used design for disassembly principles that make parts easy to separate, recycle and reuse.
The extrusion parts are made of a low-carbon type of aluminum that is made using renewable energy from water, wind and sun, which makes the ecological footprint is less than a quarter of the global average.
The pragmatic approach tests carried out with technicians at the station contributed to the delivery of a very well-fitting end product.
The new design leads to enthusiastic reactions due to the energy reduction and reduced ecological footprint and contributes to the sustainability ambitions from ProRail.